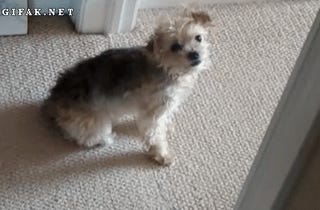 He got groomed last week and he has been doing that thing where he rubs his butt hole on the carpet and drags it along a few times a day ever since. He has done this before, but very rarely. He seems fine otherwise.
I inspected it, and it isn't red or anything. It looks normal. Any experience with this? Could it be something bad or is it just an itchy butt?
EDIT: I forgot we can have gifs in the body of the post, so I have added this illustration for those unfamiliar with dog butt hole dragging.