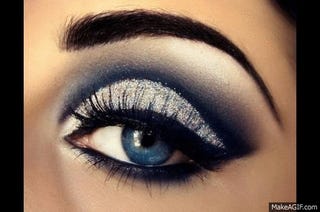 Oh, be still my heart.
Mr. Run gave me a $40 Sephora gift card for Vday (which is actually a gift I bought for his sister for Xmas and we forgot to send it, but I don't mind, because he also spent an hour in line at See's for a box of chocolates for me. True Love.)
Anyway, I could be practical and use it for moisturizer or lotion, but... Fuck That, I want to buy fun things. I was thinking about a Naked eye palette, because I love eye shadow, and I can't seem to justify buying a $53 eye palette. (Although I happily spend $40 on BB cream. Why?) My question to you people: what Naked palette should I buy, or is there a different palette out there, that is equally awesome? For reference, I have grayish-blue eyes, dark blonde hair (with bangs!) and a medium-fair complexion with very mild rosacea/red reactive-ness. My usual, day eye look is smoky bronze eye with dark brown liner. Also, I have really oily eyelids, but I do use primer and that seems to help.
ETA: Not my eye in the picture.