Hi there,
I decided to write a little bit about the slut walk, specifically about the branch in the capital of Brazil, that happened this Saturday. Why is this relevant, you ask? Well, [stretches fingers]


The slut walk itself is a beautiful movement, since it takes the slut-shaming power out of the hands of whoever uses it and flares it in a way that celebrates female sexuality and freedom. It is to feminism vs. sexism as the guy who started making plowshares out of swords was to making wars vs. chilling and living a nice life.
[Forgive the Bible reference, they say you leave catholic school, but it never leaves you. Ugh.]
Brazil is going through a lot recently. The international media is not covering it too much, and I would love to write more about that if anyone is interested. To sum up quickly, many people have taken the streets to protest, and a priori these protests were claiming for more respect for minorities. This is a time for great discussion, and great action.


Lastly, and most important in what concerns the slut walk, the Brazilian congress has been discussing a bill called "Statute of the Unborn". As the name implies, it doesn't only strengthen the already dated abortion laws, but also puts more stupid ideas into play. A famous one is the solution proposed to deal with the high number of single moms who work multiple jobs due to unwanted children: the father, even if a rapist, would be forced to be in contact with the mother and pay alimony.

Yes, you read that right. Woman is raped, the state puts her in constant contact with the rapist for, hum, ever, so that he can provide to the family. I feel horrible to use the word family in this context. Sorry about that.

All of this in order for that tiny blastocyst to remain safe, regardless of the carrier's dignity and integrity. The Statute of the Unborn diminishes women to mere baby carriers. Women would become less than something that just isn't yet.


The slut walk is also concerned with LGBT rights, and another legal brawl is the approval of "a gay cure". A bill was going on to rule any sort of treatment against homosexuality illegal and criminal, but the conservative board on the congress changed that bit, hence allowing families to try and brainwash gay relatives out of homosexuality.
That said, this slut walk was at the capital, in front of the congress, and it was beautiful. The organizers did a great job, and I thought I'd share some of the awesomeness to put at least one high note on this story:


"For the end of gender violence."


"I'm a woman and deserve respect; women are not only boobs and ass."


"Their uterus doesn't belong to the State. And not to me."
"Sex? I like it! And I'll give permission to whomever I want!"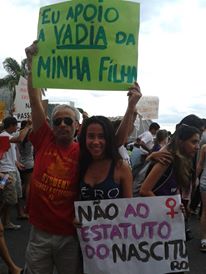 The father: "I support my daughter, a slut." The daughter: "No to the Statute of the Unborn."
Some amazing people.


"Slut. [subs. fem. sing.]:

The one that is free."


All these pictures belong to Marcha das Vadias DF. This is their Facebook page with ore pictures, though posts are in Portuguese.