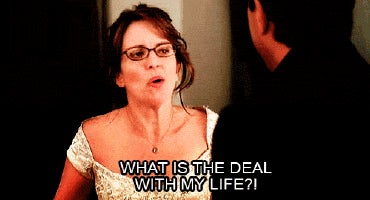 So... is karma a thing? Because I think I've somehow unleashed just a metric shit ton of it on myself. I think karma is smacking me upside the head for being such an awful bitch during this whole wedding thing.
I have to leave tomorrow for the rehearsal dinner and the wedding is Friday. Here are the things that have happened to me today:
-I got my period. FOUR DAYS EARLY. I am so annoyed. I can not believe I have to deal with this. And you know how sometimes you can just feel in your bones that it's going to be a bad one? YEAH. I'm so worried about my friend's very white sheets that I'll be sleeping on, the fact that my clutch for the wedding is barely big enough to fit my phone let alone a pad or two, and how am I going to shimmy out of an evening gown and control top "slimming" stockings on my own? I hate my body so much right now.
(usually when I get my period I spend the whole time inside, playing video games and feeling sorry for myself. Oh god, it hurts so bad sometimes. And now I get to be at a wedding for it instead!)
-My face is having the worst break out case ever. My skin is pretty good. I barely ever have a break out. If I do, it's a tiny little bump that goes away after a night. These... my god, they're horrific. Three huge red lumps on my chin, like some cartoon Halloween witch. I have NO IDEA what to do with them. I don't even own concealer! My god, those wedding pictures will be even worse now. There's no professional make up artist for this event, so we all have to do our own. I am SCREWED.
-I cut myself shaving. I cut my UNDERARM. Who does that? How does that happen?!
-I may have ruined the only pair of jeans that still fit me in the wash today.
-After trying to diet for a few weeks, I seem to have actually GAINED some weight. So... so that's a thing that happened.
I don't even have words, except one. "WHY?!"