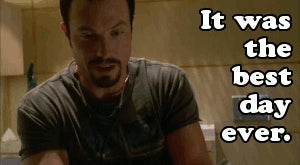 Got pizza with my oldest guy friend, bought two $6 bottles of wine from the store by my house, re-watched random episodes of Gossip Girl while drinking said wine, had a drunken phone call with my other chick friend, and brought my best friend up from a major low and might have convinced her to stop doing what her family expects of her and follow her dream that she's wanted since high school.
I also heard back from all of my friends who didn't respond to my texts or calls before, so that made me happy. They all had actual reasons for being MIA so I felt kind of shitty for being upset with them in the first place.
I'm now a bottle and a half of wine in and feeling A LOT better. I'm really happy I found this community here on Jez. It's truly great having people to talk to when I feel like I'm alone, even if I'm just being silly over not having any plans. You all are awesome, and thank you for being there.
Hope everyone is having a good night!