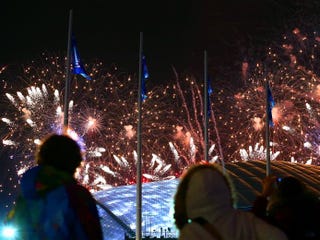 The Opening Ceremony starts in less than 20 minutes, at 20:14 local time—that's 11:14 EST and 16:14 GMT. If you're hanging out at home/have a really chill workplace/live in a country where it's already the weekend, watch with me!
BBC has already started livestreaming their pre-show coverage here, and Deadspin has instructions for those of you who haven't already figured out how to get access to it from outside the UK. Francophones/people who don't care about understanding the commentary can also watch here, and I'm sure a little Googling would bring you to whatever other county you want to watch from.
I'll update with links to other streams/liveblogs/Buzzfeed gifs as I find them. (And if folks so desire, we could even set up a Chatzy or something.)
Update, 11:40 EST: We're at the Parade of Nations. Go chill for a little while unless you really like flags.
Update: 12:30 EST: Parade is over. Come back.