This place is so, so fucking good. It has fattening Southern food and a bowl of Tootsie rolls at the checkout. It also has diner-style booths and the waitresses dress in old-school white outfits.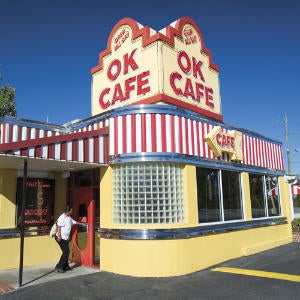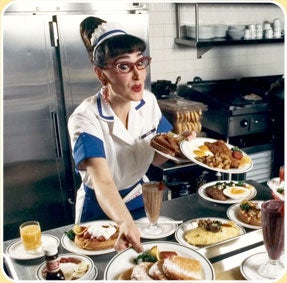 I used to work at a bookstore nearby and I'd go for lunch and eat a big soggy grilled chicken and cheese sandwich and a limp pale pickle that were somehow achingly delicious. They have since discontinued the sandwich, which is one of the great tragedies of my life...but that pain has been surpassed today.
The best part by FAR is the takeout part. We're talking squash casserole, mac n' cheese, stuffing, corn muffins, and vegetables nuked in heavy oil. Key lime pies, by whole pie or by slice. Chocolate cake. Sweet tea with the loveliest, most crunchable small ice cubes. Ribs. Giant cookies. Cheese coins. Cheese coins are baked bits of goodness that come in a white bag with a window onto the beautiful ridged rings of fat.
I don't know what I'll do without OK Takeaway waiting for me as my I-just-went-to-Mom's-and-visited treat. It was the thing that sealed my motivation to go and see her - "on the way back I'll grab some OK Takeaway." Now where shall I go? Oh, you faux 1980s diner, you overpriced haven of fattening food. Please get well soon.