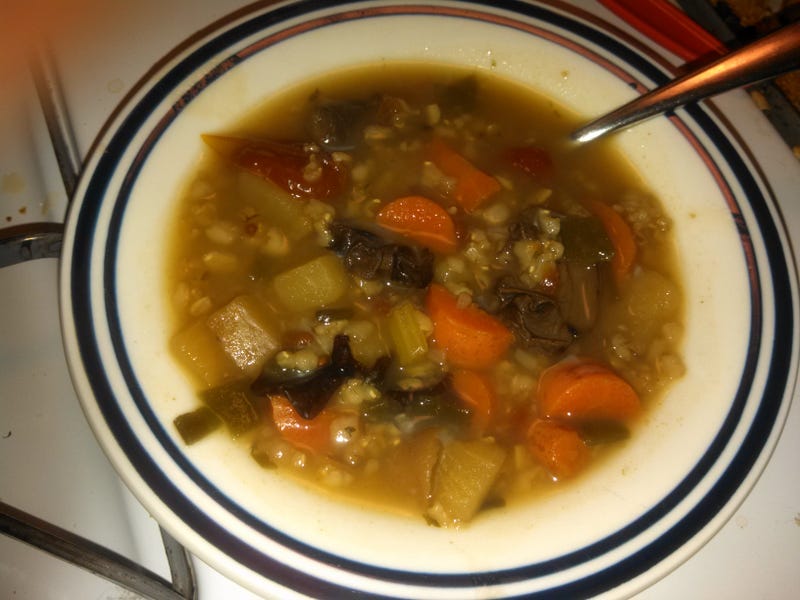 Here is that veggie soup I was talking about yesterday! It's so yum. There's all kinds of stuff in it, a real clean out the fridge type of soup.
The stock I made from the bagful of odds and ends I keep in the freezer. Celery leaves and ends, onion skins and ends, carrot ends, broccoli stems, a couple of radishes, mushroom stems... I threw in a handful of frozen cranberries, half an apple, a frozen jalapeño, a piece of dried seaweed (kombu), peppercorns, a couple cloves of garlic... just everything that seemed like it might help.
After that simmered for 2 days (adding water now and then), I strained out all the soggy veggie bits, reserved the kombu, and added in fresh stuff. Potatoes, carrots, dried tomatoes, dried onion, dried mushrooms (yay! Thanks!), diced the kombu and a couple cloves of garlic... found 2 stalks of going-limp celery under the carrots in the fridge (oops) so chopped that up and tossed it in. Added 1 chopped up chipotle from the can I'm trying to use up in my fridge. A handful of salt and some black pepper, turmeric, thyme, parsley and some other stuff I can't remember lol. I added more water to compensate for all the dried stuff, and 2 big handfuls of brown rice. Cover it up and let simmer for a couple of hours, until it smells so good you can't stand it.
It. Is. Awesome. Spicy and intense, almost stew-like from the rice, it is warming, sinus-clearing, and all around good for you. Also, fat-free, gluten-free, dairy-free, vegan... and delicious! I'll end up freezing some of it, I'm sure, because there's about 12 quarts of soup, but it'll be yummy later, too.