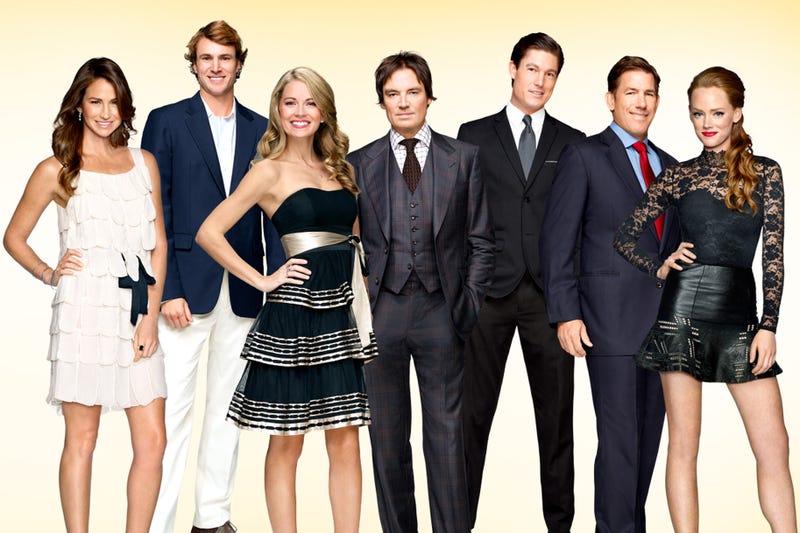 Has anyone watched Southern Charm? It's about the lives of privileged white southerners in Charleston, South Carolina, which has not entirely been well-received by the people of that city. So who is in the cast? Let's talk about it.
The most infamous member is Thomas Ravenel, the former State Treasurer and son of a Congressman, who was indicted and incarcerated for the possession and distribution of cocaine. A liberatarian, he doesn't believe in harsh drug laws and ran as an independent candidate for Congress, opposing Lindsey Graham, spending 1 million dollars of his own money to finish 3rd, with 3.4% of the vote. Btw, during a drunken appearance on Watch What Happens Live, he said that Andy Cohen kind of goaded him into running when he asked him if he was going to campaign for a congressional seat and then he had to "honor" his word. Yes, yes it doesn't make sense to me either.
His storyline consists of him trying to settle down with a woman for the sake of his political career. He eventually has a child with 21 year old Kathryn Calhoun, who he does not want to marry. Kathryn for her part, spends her time being angry and resentful at Thomas as they both realize that the age difference is too much and apparently broke up in March. Boozy Thomas though continues to spend time at his plantation, talking about his great family name and drinking whiskey. You have to watch the show to see the level of collective immaturity in this couple—Thomas being an overgrown frat boy and Kathryn seems a little like a 16 year old party girl trying to seem mature around her dad's friends. Kathryn is full of rage and jealousy. Thomas is just sort of vague and drunk and regretting his relationship choices.
Even more annoying is Whitney Sudler-Smith. Whitney is all about being "Rock N Roll" and edgy and shit. He's a filmmaker who made a mediocre documentary about Halston. He spends much of his time with his mother at her estate (drinking martinis prepared by her revolving door of butlers), as they talk about the poor manners of Kathryn Calhoun (despite the fact that she is descended from one of South Carolina's oldest families). He also opens some high end restaurant that is probably rock and roll and edgy and shit because Whitney is edgy. He even has a band. An edgy edgy fucking band. Whitney constantly gives Thomas shit for dating a 21 year old, of course until Whitney starts dating a 20 year old model, but I guess it's different because she's German. And maybe edgy. And also Rock N Roll. He finally moves out of his house to live in a party house with another cast member, Shep. A party house that is worth about 2.6 million because really, fuck my life.
Shep Rose is the least offensive of the man babies, being sort of the vague goofy 30 something trust fund baby who has never had a job. He is always looking for love but is not as much a dick about it. I think he has a lot of sex but not a lot of commitment. Shep is like a combination of old money and Jimmy Buffet's Margaritaville. He's also good for a one liner and kind of thinks that Whitney and Thomas are full of shit but also too goofy and inoffensive to really call them on their stuff in any meaningful way.
While there are other cast members, the last one that I'll note is Cameran Eubanks, the voice of reason. A former member of the Real World San Diego cast (where she was also the voice of reason), she thinks most of the other cast members are dipshits but also likes them. She tells them that she was sent down by God to help all these turds (to paraphrase her). She works as a real estate agent and is the greek chorus of the cast, noting their tremendous privilege and their lack of willingness to work or not be total douches. Cameran married in the last year but her husband does not appear on the show, probably because he thinks it is bullshit.
I love her. But the rest of the group are completely full of shit. They make the Vanderpump Rules cast seem self-actualized. Rather than watching a clip from the show, I suggest you watch this clip from the Kroll Show called Rich Dicks that encompasses the spirit of this show than anything else I could show you.
Anyone else watching this show?