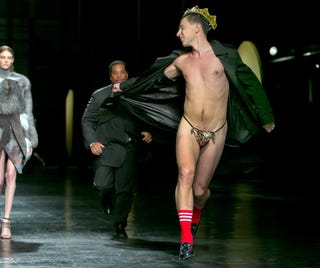 What was that line, apparently impromptu, that David Niven came up with at the 1974 Oscar ceremonies, just before he was to introduce Elizabeth Taylor and the Best Picture Oscar, when a streaker raced across the stage in front of the live TV audience?

Oh, right: "Isn't it fascinating to think that probably the only laugh that man will ever get in his life is by stripping off and showing his shortcomings?"

That moment came to mind early in the Prabal Gurung show Saturday when a 2014 version of a streaker — this one dressed in a crown, trench coat and what appeared to be a jockstrap — jumped out onto the runway and scampered, waved and kneeled in front of one model who remained expressionless (and directly in front of an equally unfazed Anna Wintour) before he was finally dragged off the stage by one of the security guards and disappeared behind a billowing black curtain.
Back in my day, streakers freeball it, not this loincloth and crown. Who does he think he is? The King of England? Get off my lawn, semi-nudie.