Before we begin the Daily Dump, please bow your heads as zap rowsdower gives us our daily Lupita (with Michael B. Jordan!) Amen!
This Daily Dump is a quick one. The dump was skipped yesterday so I only included entries posted after Midnight Kinja time. If you feel your post was missed please put a link in the comments. If you will like to do the daily dump, make sure to sign up when the sign up post is posted.
Let's start:
JinxieJade took some beautiful wedding photos
---
Here's the state of Texas laughing about 80 degree weather. Texas will be laughing harder when it gets to 106(with the heat index of 110) in June via SEMPRE PLOU SOBRE MULLAT)
---
Yard Sale! via sugarhill
---
Y'all are some quirky people via STITCHISMYPATRONUS (BCT/BT) (GT's tag should be changed to "Do you even Quirk?")
---
All that food wasted...via Lethekk
---
Brown Eye-Blue Eye Experiment video via Ninjacate
---
Yay! Someone unfucking like me! via DEMOLITIONBEANSÍDHE
---
Croguesberg didn't invite me to this castle of cheese....
---
---
Kinja has a leaderboard via MYPRETTYFLORALBONNET
---
Help paranoid_shiksa_feminista with a project, please! Also some professor won't stop emailing....
---
My twitter wife was talking with some houseplants via Jenn44416
---
The required Snacktastic posting: Groupthink Weather Report
---
IntheWeeds letting us know that there is no such thing as a gay sport
---
Lemonadelover is a boss
---
Adventures in Hair Dyeing via Misfittoy
---
---
That has been your Daily Dump. I just have one more thing to add: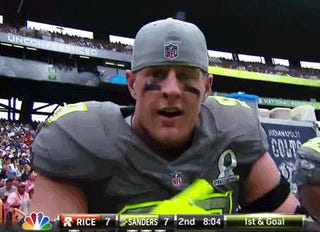 Have a great Sunday guys!!!!
Housekeeping: We have a huge volume of posts here and you'll notice that cross-post shares (anything posted originally on a Kinja domain other than groupthink.jezebel.com) and comments shared to the main haven't been included for ease. Posts headlines are included with links in roughly chronological order (ETAs and timestamp bumps notwithstanding). If a link is either missing or dead, please politely make a comment with the headline and link in question so that the DD's author can add/delete it accordingly. Thanks and please sign up to do a DD roundup in the next open call!