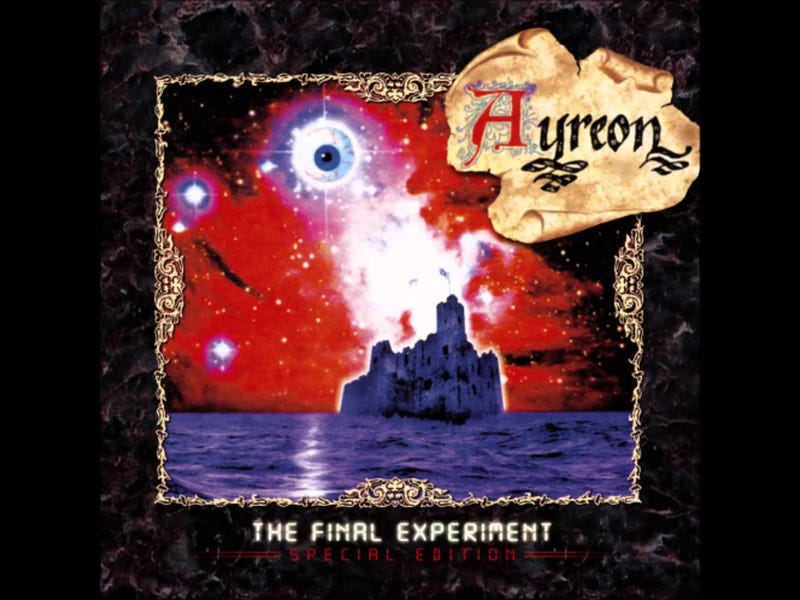 In the wake of Ubertrout's benediction of multi-post days and whatever-the-fuck-you-want topics, I've decided to share micro-episodes (one song or artist at a time!) of the rather unique music I favor. Yes, wow, everyone here has amazingly unique and varied taste in music. We are all of us brilliant souls with soundscapes customized to our unique lives. But the "What's your favorite" posts generate so much discussion that I can't even pick which embedded Youtube video to play. So why not pimp our own??? This is mine, episode one.
Anyone who has read more than three of my posts knows I'm obsessed with opera, but the truth is that my love of opera was preceded by a love for modern symphonic music out of Europe. Holla, Nightwish fans!!!
Listen to this song, by a Dutch artist called Ayreon. The track is named Sail Away (to Avalon). It's from the concept album (I'm a sucker for concept albums!) called The Final Experiment. Basically, the human race has ruined itself to near-destruction so Merlin has summoned a blind, prophetic bard back to Arthurian times to try to get humanity to change its course. The bard is named Ayreon, incidentally. The lyrics are below:
TO ENTERTAIN THE COURT,
AYREON MAKES UP A SONG ABOUT THE BRAVE KNIGHTS OF THE ROUND TABLE
AND THEIR JOURNEY TO THE ISLE OF AVALON IN SEARCH OF THE HOLY GRAIL.
[AYREON:]
Noble men in shining armour
Knights of the table-round
Go out and ride like thunder
Cross the sky at the speed of
Sound the horn, 'n blow the trumpets
Upon the castle wall
Now the quest has started
Listen to the prophet's call
Sail away
Sail away to Avalon
The journey has begun
Sail away through the night
Sail away, never die
The gods are at your side
Sail away through the night
Ride on the road to glory
Find the holy grail
And learn the ancient story
'S more than just a fairy-
Tale about the key to life
And all its mysteries
You'll find the grail within you
Slay the dragon in your dreams
Sail away to Avalon
The journey has begun
Sail away through the night
Sail away, never die
The gods are at your side
Sail away through the night…