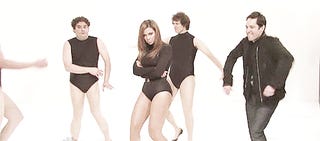 I would love JaJa to win; I think she is a phenomenal dancer even now, and with training I think she will be truly extraordinary (the Alzheimer's duet showed a taste of her potential, I think). Her emotional range is amazing, as opposed to Virgil, who I think feels the emotions during rehearsals, but if they are darker emotions, he has some trouble conveying them during the performance.
Hailee and Gaby are already very proficient technically, in all styles, but I think Hailee has the same problem that Virgil has; a little too happy.
My pick to win, even though I want JaJa to win, is Gaby. I think the judges have been subtly positioning her to win, by A) praising her to the skies, and B) giving small criticisms to everyone else.
ETA; since this is pretty much a replay of the judges' fave routines over the season, I don't anticipate making a lot of comments myself ...
ANOTHER EDIT; Anyone not watching the show on Monday; don't read the comments! I won't talk about the winner in the main post, but the comments are a different story.