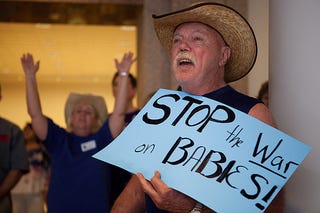 For those who haven't been following along at home: after hours of live testimony, the Texas State Affairs Committee has voted to approve House Bill 2 with 8 ayes, 3 nays, and 2 absent. Everyone is shocked and amazed. (Oh, wait, never mind that last bit.)
At the start of the hearing Chairman Cook failed to answer when asked if a vote would be taken that night. Testimony was set to close at midnight and did so, despite objections by those in the crowd as well as by State Rep. Sylvester Turner that there were still more than 1,000 who had registered to testify (from sides of the debate) and had not been heard. Fewer than 100 people were able to testify.
Turner (who has been vocal and amazingly rational throughout the hearing) took the opportunity to share his opinion with Rep. Laubenberg (transcript from this liveblog):
Tell me where does pro-life start and stop? When a child is born and we no longer fight for their quality existence?

When I go to my district and I see children who are struggling and I listen to all of this testimony, what do I say to kids I see every day? What do I say to them?

These are kids that are here on the face of the earth walking every single day that we see. So is our love greater for those that we don't see and less for those that we see every day that have already been born?

That's the disconnect that I have. That's my disconnect. As a Christian, that's my tension with this issue and those who advocate for it. Because these are kids that we see. I can bring them up here and put them in front of us.

Why does it seem as though it stops when a child is born and walking on the face of the earth? And they need things, quality things, in order to reach their full potential?
The vote was also taken despite Turner's objection that he had amendments to make to the bill.
According to this handy diagram, after this the bill goes to the House as a whole, then repeats the process with the Senate. Which means we'll probably go through this process several more times. Oy.
If you missed the livestream—which included some incredibly powerful testimony from both sides—check out the Jezzie commentary, Texas Tribune writer Becca Aaronson's tweets (which generally give at least a brief mention of each speaker), or her more in-depth write-up (which includes details on testimony from individuals with personal stories, medical and legal professionals, and representatives of assorted organizations).
The awesome thing about this, to me at least, is that the level of involvement is still so high—although of course nowhere near where they were during the filibuster. #hb2 is trending on Twitter. (Although so is "Hail Satan", insert-Liz-Lemon-eye-roll-here.) More than two thousand people were watching the live stream at one point when I looked. 3,543 people registered an opinion either for or against the bill. Hundreds of people waited for hours on end in the hopes of saying their piece. (And obviously America's Baby is on it.)
Let's be real, this bill is almost certain to pass eventually. And yeah, a lot of the people who spoke were "pro-life" in the worst possible ways. (Oh, and Rubio is bringing up his own 20-week bill in the Senate because of course he is.) But at the very least, it's being made clear that these kind of restrictions are not going through quietly.