I didn't write anything about it here, but earlier this year my grandma died. A few months ago my aunt and cousin, at whose house we usually had Thanksgiving, moved to another country. Of all the extended family that we spend holidays with every year, only my uncle is still here, and he has other plans. Ever since my grandma passed away the thought of the upcoming holidays has been depressing. My mom especially hasn't been dealing well with prospect of holidays without her mom. We basically didn't have any plans.
...Until last week, when our business neighbor (my family owns a store) and her husband, who have become good friends since she moved into the space next door earlier this year, invited my parents and me to come to Thanksgiving at their house. We've decided to take them up on the offer.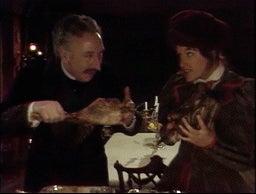 I'm not entirely sure what to expect (though I know there will be good food — we've had dinner at their house before). There are going to be nine other people there that we don't know! But I'm really thankful that we have these new friends in our lives.