Orphan Black Noooooooooo!! I mean, YES! but also nooooooo! (spoilers ahead)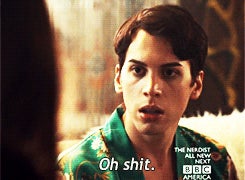 Wowza. If it felt like this season wasn't going anywhere, it's really because they were saving everything for this one episode. That was one darn good hour of TV. I love every development and all of the progress the show just made, except one.
.
.
.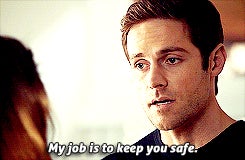 Aww, Big Dick Paul. (Felix named him—not me.) Everything he did was for Sarah. It was his job to protect Beth, and he only liked it when Beth became Sarah. The sexing-to-stop-the-questions thing was fun for him, and he liked her style/choices so much more. From then on, he would do anything to protect her. Even when that wasn't his job anymore, he still did it. He missed the part when Sarah started to like Helena, psycho-serial-killer. He thought she wouldn't mind the trade. It was to keep Sarah out of this and give her back a regular life. She, of course, didn't see it that way, because the fostered orphan finally had a family she'd been dreaming about for years. Different, of course, than expected, but it's still her family. I love that the two of them got to reconnect before this end. Really, though, it was clear (especially in today's episode) that his role was her bodyguard. I like him exponentially more than Cal, but it was clear that the show wants Sarah to have her own little nuclear family. It became clearer that as Sarah's bodyguard, Paul would die to save her. That is his job, with the soldier training. It's that boyscout thing. He got all the answers, and I really hope most of them didn't die with him.

Really a solid episode all around. Even the Allison & Donnie stuff didn't seem so strangely out of place, as it did at the start of the season. Allison's running for some council? Um, okay.... Didn't they just hide a body in her garage? isn't her sister missing or something? Not freaked out in the least—just holding onto her life, and that Facade of Suburbia. It makes perfect sense to me that Donnie is a terrible criminal. If they're drug dealers now, he's the kind that rap videos are all about. It's all glamour and no practicality. Also—making it rain, twerking in their underwear, WITH GLITTER. Because exactly.
Here's a question: am I sympathizing with Mark because he fell in love, or because he's just not as bad as his brothers?

Now if you'll excuse me, I need to find more tissues. Best episode of season 3, by miles.
RIP Scruffy Paul. You'll be missed.