How is this week treating you so far GT? Mine has been shitty. Literally. I have to bring my poop to school on Friday and over the weekend, a squirrel fell down my chimney while I was sleeping, ran around my living room, and pooped all over the floor. Really.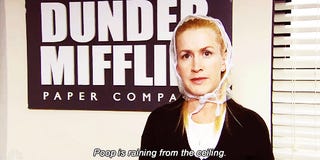 Dammit, you people are posting a lot. Oh wait. There's just a lot of triplicate posts complaining about Kinja making triplicate posts. I mean, I know we're all tempted to get super wasted on Mondays too, Kinja, but COME ON! PULL IT TOGETHER!
So we all hate this new sidebar. We don't understand how it fucking works. We don't know how to fucking deal with it. Obviously the solution is just to BURN IT THE FUCK DOWN! And afterwards we will all go on a field trip to New Zealand.
This post has a lot of pictures of baby animals and babies. It is the best. Although some of you probably like this photo more. Have either of those ready to calm you down after you read this stupid list of rules for dating someone's son.
Shhhh someone's getting married but it's a secret!
Bishface Bobby DGAF about reverse racism.
Why does all this weird shit exist? I don't know, but I like it.
Have you ever thought about why you enjoy spending time here? It's cause your dad sucks and you are angry about it, apparently.
Penis....penis....penis....PENIS!!!!!!!!!!!
You can use penises for baby-making, or you can not. Whatevs.
Don't put this shit on your face, but you should definitely put lentils on your face. Here is the best way to make your lentils.
What's your favorite book? What's your favorite teacher movie? What's your favorite Pokemon and do you want a tattoo of it?
Wax-Tadpole wins at drag queen names.
OK SORRY GUYS, THIS DUMP IS OVER. IT'S CAPS LOCK DAY AND I HAVE TO GO DO A WORK THING. HAVE A LOVELY EVENING!