Sorry for posting a bit late! Here we go!
WE HAVE ALL THE FEELS TODAY.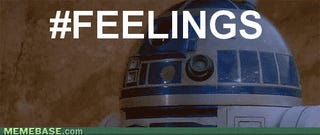 Southernhelle feels old.
Hello My Lover feels hate.
Cassiebearrawr feels sad.
whosits feels comfortable.
Penabler feels Pixar is classist.
SorciaMacNasty feels addicted.
Chips, In Search of Dip feels like a failure.
Zemarsea-Urchin and Medusa Adusem feel ragey and more ragey.
Iteatsyoustartingwithyourbottom feels productive.
Cumberbuttcheeks feels like (not) getting naked and also famous!
Lots of people feel excited about getting posting privileges (I feel to lazy to link to you all. Sorry.)