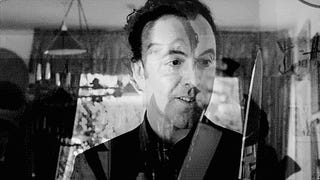 Dear Citizens of GroupThink, today has been a busy day. I have been doused in wholesomeness, from teaching preschool this morning, to church staff meeting this afternoon. So I'm going to watch Jekyll (Gina Bellman is sooooooooo hot. SO. HOT.) and recount the day on GroupThink.
We continue to discuss class issues, in response to Ubertrout's article on class privilege from yesterday. Idiots are making Fluterdale livid, Uber feels the need to give us a follow-up, Packedlunch ruminates on being the poor friend, and Tyrannasaurusbataar is frustrated by how the comments keep turning into some kind of frugality contest.
But the day has not been all about class. Princess Fluffybutt has some sad news. We're here for you, Princess. All the hugs.
BlueAlaskan LOVES her menstrual cup. Me too, Blue, me too. Mine, I mean. Not yours. I mean, I'm sure yours is great and all, but I just don't have those kind of feelings for it. And mine is, well, mine. You understand.
LittleDanni sparked some good discussion on, well, discussion.
MyPrettyFloralBonnet shared a truly amazing comment courtesy of the LA Times. I feel the need to find me a cholo boyfriend. Where does one find one of those, pray tell?
NinjaCate reminds us all that Robin Thicke is STILL an ass. Shocking, ain't it?
sugarhill gives some truly excellent pointers and resources for having *ahem* THE TALK with your kids. And that it really shouldn't just be one talk. I have my fingers in my ears and am refusing to acknowledge that I'll need to be using this advice in a few years. NO, no, no. My babies will remain innocent their whole lives, la lala la la la la.....
Now that we have all the frivolous posts out of the way, I feel the need to share the truly SERIOUS STUFF with you all.
First, Napsauce shares the wrong way to assemble burritos. I have felt this pain.
And ISpeakJive has feelings about yogurt. AS DO WE ALL.
Stay classy, GroupThink!