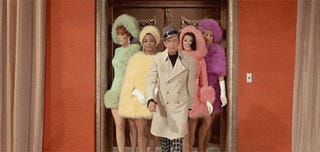 Today would have been Don Knott's birthday! I offer the above gif in celebration.
I just want to say this is such an amazing community we have here, and I'm so glad I get to be a part of it. Thank you all! Now, onto business:
SeaAnemone wants to know how you put on/take off your bra
JennyApples (welcome to the world Applet!) rightly calls out a main page article for its unsolicited advice and utter bullshit
Coffeejitters wonders about being too empathetic
TyrannosaurusBataar shared Beautiful pics of trans women in 1950s Paris
Ravenzmane had an odd encounter with an overly frisky friend
More OKCupid shenanigans! Uppity shared their favorite messages, thereisnofluffy got unasked out by an OKC suitor, and heartraterapid's OKC match really wants to know how you ate doing AND apparently has dominant eyes
HermioneStranger shares her thoughts about an xoJane article
Ashronin started a conversation about new obsessions
Raindogwaiting took the noble route with a potential sale
To get all meta on you, Ubertrout posted Daily Dump Clarifications
Rattie Mattie asks for your favorite recipes
Rawrglicious would like for people to stop being a creepy creeper
Dzsesszika gifted us all with some very helpful travel tips for hotel booking and stays
LizzHaa shared an awkward moment and would like to hear about yours
Medusa Asudem made a questionnaire for her online Phys Ed course "about shit that influences our eating habits and health product use"
themeaghanshow posted Geraldo Makes Everyone Close Their Laptops at the Same Time (click through if you dare!)
from Kookaburracho: On the Holocaust and Survivorship: Bringing a Mainpage Debate to GT
BlueAlaskan and others shared some Sunday Fluff
paranoid_shiksa_feminista asked about your motivational jamz
Hello_My_Lover posted The "Recovering Racist"
Heather Simon shared a video: Girl Would Rather Die Than Be Sold Off Into Marriage
HermioneStranger calls tumblr on their bullshit with Tumblr's new porn crackdown hurts gays, lesbians, and bisexuals
clarabellum posted Shaving down there: The great paradox of womanhood
I hope everyone had a lovely weekend, and enjoys what is left of it!