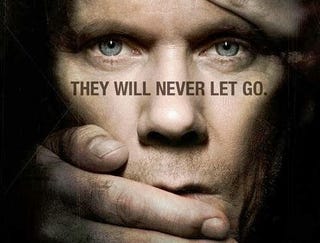 Let me tell you one thing about the episode....IT IS LOADS BETTER THAN ANY EPISODE OF THE FIRST SEASON. Spoilers under the cut.
I am glad Claire is gone. Her character served a purpose in season 1 but not so much after Joe was in the fire. I'm glad we can move away from the romance/love triangle of these three and focus on Ryan and Joe. They are so a like but so different.
I was not expecting the twins. I thought dude was having a personality breakdown(Like I see at my job) but no the main killers are twins this season, who along with a french woman(she was on that show involving a navy ship that got stranded on a island. It had Andre Braugher in it), are trying to "resurrect" Joe. The singing with the corpse/making breakfast for the corpse/telling the corpse about his view on sex were all done right...for the show. I mean I have a BA in Iinvestative Discovery Channel so there were some things I could nitpick.(Also an actual expert could nitpick.)
I don't not like the new FBI team. 1)There is a Black man in charge and a Latina as second in command. That's it for the diversity folks. There is a lot more POC working in FBI/NYPD(IDGAF if you don't care.) and 2.)These characters seem wooden but hopefully that passes as the season rolls along.
Connie Neilsen(Yes I spelled it wrong in a tweet) is in this. Stabler former partner/lover is in this. There is no way she is just some innocencet victim who happened to get stab. Also, the twins seemed to be going after blondes which to be is very cliched.(Also cliched is the whole AA meeting. The bonds that Ryan supposedly formed did not feel real.)
This B-side of the show seems interesting. The old Followers are trying to figure out what is going on while this new group is causing chaos while trying to force Joe in the open. Pretty sure there will be a showdown by episode 5. Also Emma's new look suits her/the actress. I hope they keep it throughtout.
Cheesy biscuits.....
Iceman needs to calm down though. He is getting too eager to include Ryan in this. Too busy worrying about that business with Debra...
Ryan's neice seems like a good character. As long as she is not use like Ryan's sister, I look forward to see what her role is.....