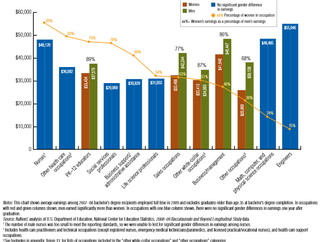 In today's edition of "sexism is fixed, yo" the Smithsonion brings us Female Computer Scientists Make the Same Salary as Their Male Counterparts. Lil problem though, they're using first year out of college data from 2009. Also using 2009 data, but aggregated, The US Department of Commerce finds that, well, there actually is a wage gap:
US Department of Commerce: Economics and Statistics Administration. "Women in STEM: A Gender Gap to Innovation". Executive Summary (2011)
So really, all we've learned is that entry level wages are not indicative of overall wages.
And sidebars 'cause this study is cool:
Meritocracy Is Dead
Women as a group had a slightly higher grade point average (3.30 on a 4.0 scale) than did their male peers (3.18). In 2009, one year out of college, 19 percent of women compared with 15 percent of men had graduated with a grade point average of 3.75 or higher. For both men and women, earnings tend to increase with higher grades. Still, when we compare men and women with similar grades, men earned more than women did, on average, at every level. Academic achievement does not shed any light on why women earn less than men do.
(Corbett and Hill, 2012)

Classicism is Alive and Kicking Though, for Men:
(Corbett and Hill, 2012)
Header image is from Corbett, Christianne and Catherine Hill, "Graduating to a Pay Gap: The Earnings of Women and Men One Year after College Graduation", American Association of University Women (2012)