I came across these and found her work and her life incredibly interesting. Thought some people might be interested!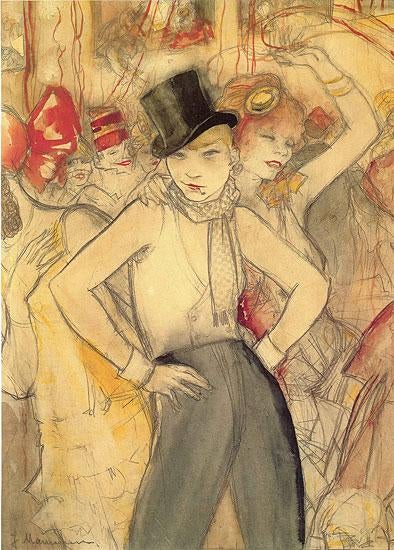 Born in Berlin in 1890, Jeanne Mammen lived in Paris from the time she was five years old until 1914. At the outbreak of the First World War, Mammen's wealthy merchant father suddenly became an "enemy alien" to the French. The French government seized all of his possessions, and the Mammen family fled first to Holland, and then settled once more in Berlin. Her financial resources depleted, Jeanne Mammen drew upon the artistic education she had acquired in Paris, Brussels, and Rome to support herself. Despite the initial difficulty of earning a living as an artist, she found work as an illustrator for such prominent periodicals as Die Dame, Simplicissimus, Uhu, and Ulk.

Mammen had never truly known Berlin before moving to Paris. Her return, as a young woman, to her birthplace consequently brought with it a pronounced sense of estrangement, which, in turn, colored her depictions of Berlin life. Mammen's Weimar-era works offer a social critique of the modern metropolis through their exploration of the "New Woman's" relationships to her work, to men, and to other women. It is only in her images of interactions among women (many of these with erotic overtones) that Mammen conveys any sense of true intimacy.

In the spring of 1933, the Nazi press labeled Mammen's artwork as "Jewish" and banned publication of her series of eight lithographs illustrating Peter Louys's "Les Chansons de Bilitis," an exploration of lesbian love. Thereafter, Mammen's opposition to the Third Reich's cultural agenda compelled her to cease exhibiting and to discontinue her illustration work for any publications that conformed to Nazi standards. Between 1933 and 1945, Mammen earned her living selling various items from a cart she pulled through the streets, and also attended local drawing courses. Her output at the close of World War II and from the years that immediately followed evidence the tremendous hardship of living in a city largely devastated by battle.

Mammen remained artistically active for the last thirty years of her life, although her later works have never achieved the renown of those produced during the Weimar years. She died in Berlin in 1976.
— GSE Art
Mammen once said, "I have always wanted to be just a pair of eyes, walking through the world unseen, only to be able to see others. Unfortunately one was seen ...."

Like her contemporaries in Weimar era Berlin — Otto Dix and George Grosz — Mammen was an observer and critic of the world around her, with her artwork often street life and the outer edges of bourgeois society of the '30s.

Born in Berlin in 1890 but raised and schooled in Paris, French art and culture were most familiar to her. At the start of World War I in 1914, she was forced with her family to flee France rather than risk interment as a hostile entity.

Her family's property was confiscated, and so upon arriving in Berlin, she had to take any work she could to survive. It was this social and economic upheaval that put her in touch with a wide variety of people in varying classes and these experiences found expression in her artwork.

Her commercial career began to thrive in the '20s as she designed film posters and magazine covers. In 1930 she had a major exhibition of her work. Following that benchmark in her career, she illustrated Pierre Louys's Les Chansons de Bilitis [The Songs of Bilitis] (1894), variations on the theme of lesbian love, and she created a series of eight lithographs in two colours.

In 1933, however, after the National Socialists had seized power, Jeanne Mammen's portrayals, those of women in particular, were cause for concern. After her participation in the spring exhibition of the "Verein der Künstlerinnen zu Berlin" [Association of Female Artists in Berlin] the first slanderous attacks appeared in the Nazi press, denouncing her manner of portrayal and the depicted motifs and subjects as being Jewish. The lithographs for Les Chansons de Bilitis were banned from publication.

She refused to work with publications that had previously hired her as they were censoring artwork to satisfy the cultural politics of the Third Reich. She preferred to try to earn money by pulling a hand cart through the streets of her neighborhood, trying to sell second-hand books, journals, and graphic works.

At this point her style turned toward cubism as she was much influenced by Picasso. She continued to produce work in seclusion even after her building had been hit by a bomb and much of her artwork and personal belongings were destroyed.

After World War II, she began to share her art publicly again and worked designing theater sets and posters. Mammen had established a habit of not always signing her paintings, and she never dated them. In her opinion this information was irrelevant for the understanding and appreciation of a work of art, which first and foremost had to be experienced with all senses. Therefore it is notable that she did sign and date her last painting Verheißung eines Winters [Promise of Winter], October 6th, 1975. In a rare interview with Hans Kinkel at the occasion of her 85th birthday she said, "Now I have an unhealthy preference for white, after I feel better again, I will paint all pictures in white. In a hundred-thousand years they will all have turned golden."
— Christopher Harrity, Advocate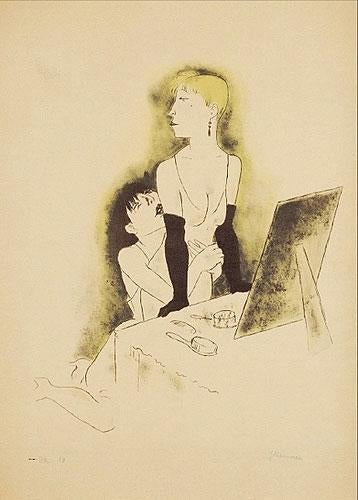 Edited to include Advocate biography.