I screwed up a cookie recipe!
I've been making cookies since I was 10! How does this happen? I tried making chocolate sugar cookies for my all store meeting tomorrow. This recipe asked for all the normal things, but instead of regular sugar it called for confectioners sugar. Is that weird or am I not as good at this as I thought? The batter tastes good, but it isn't really roll-out cookie consistency. I'm hoping it works as a bar cookie, with some kind of topping. Now I'm just peeved! I'm the resident 'Baker' in my store and if I screw this up, then I'm no longer the talented one.
I'm not even sure what this post was supposed to be about, I'm just mad. So, here's a cookie!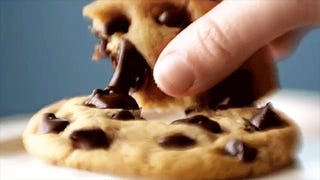 okay! update! So, the sugar cookies didn't work. Taste like a less chocolate-y brownie. Instead, I threw together my oatmeal cookies that never fail. And threw in chocolate coffee granola instead of plain oatmeal. DELICIOUS! And, I get brownies! I'm no longer angry, yay!