Goddammit Beel MANSPLAIN SOME MORE WHY DONCHA
WHAT DOES THIS SHIT EVEN MEAN
BEEL I HATE YOU SO MUCH
This is the stupidest shit. You love Sookah so much, making her kill you so she can have the fabled "normal life" magical protagonists are always soooooo keen on is not going to mess her up AT ALL. Yeah she'll be real happy and guilt-free after that!
IT'S ABOUT GODDAMN TIME ERIC.
JAPANESE GUY MAKE ORIGAMI OUT OF MONEY LOL GET IT HE'S JAPANESE -___-
SERIOUSLY WHY DIDN'T THEY DO THIS LIKE A BILLION YEARS AGO. YOU ARE JUST NOW NOTICING THESE ARE HUMANS WHO YOU CAN EASILY SLAUGHTER.
"Gasoline would not do that. Maybe he used his vampire breath to blow on it." - Mr. Leaf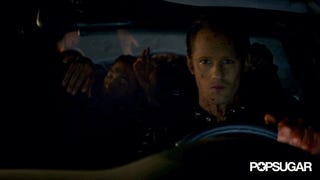 This forever.
lol Sarah Newlin, you're pretty quick to jump to 1. asking to be made into the thing you hate, 2. offering sexual favors. And that was a pretty dramatic horror-type feeding scene for something that happens every 5 minutes on this show.
<3<3<3<3<3<3 mah OTP. SUCK IT EVERYONE
BEEL YOU MESSED UP HOYT'S INSTA-PROPOSAL, JERK
Are we just gonna be listening to Beel spout stupid shit for this whole episode cause I'm really over it.
I DON'T KNOW HOW MUCH TIME I HAVE SO MARRY THIS GUY RIGHT NOW JUST FOR ME EVERYONE DO EVERYTHING FOR ME OKAY???THX
Can we at least have Sookah un-mind-erase Hoyt so this can be like marginally plausible????
OH GOD BADLY DUBBED OVER TARA CHILD NOPE NOPE NOPE
OMG IT'S SO BAD
SOOO BAD
Almost as bad as how little this girl resmebles Sookah. Like NOT AT ALL.
"He asked me to kill him with my light-ball." LOLED.
Won't you be my best man even though I have no idea who you are?
I'm just gonna say this ridiculous shotgun wedding is evidence of my personal victory in this series. TWUE WUV DAMMIT!!!!!!!
Isn't everyone going to be bleeding out their ears at this daytime wedding? Romantic.
aw. IT'S GUY LOVE BETWEEN TWOOO GUUUUYS
yeahhhh I'm just eating this up. I don't care if it's objectively terrible. JESS & HOYT 5EVA
I'm sry is he TURNING HUMAN??? Is this shit goin' down? HE'S GONNA TURN HUMAN INSTEAD OF DYING????
LOL Girlfriend-fucker! I forgot about that one.
It seems not only Jason but also Sookah is unaware you can initiate a relationship in other ways than immediate banging? Well, this IS True Blood.
LET'S RECAP ALL THE RIDICULOUS MAGICAL PEOPLE WE'VE SEEN IN THIS SERIES.
SHOCKER, SOOKAH WON'T GO THROUGH WITH IT.
What is she gonna do, hit him with a shovel?
Wait for real? oh. right, stake.
Just draaaaaaaag it out some more...
Well, I guess that's actually it!! I was totally convinced he was gonna turn human instead somehow. BUH BYE BEEL.
INFOMERCIAL ERIC AND PAM ARE EVERYTHING
I'm sorry it's been 4 years since he met this girl and Jason has 3 kids? Yeahhh okay.
STEVE NEWLIN'S BACK!! But seriously her being trapped in this dungeon for 4 years.... :/ messed up.
And Sookah's mystery husband: Some Random Guy.
And nothing else happened, THE ENNNNNNDDDD