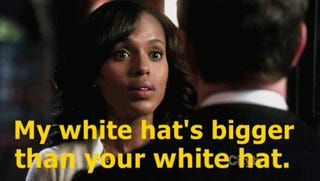 I had an amazing idea for the Dump today, but I binge watched Scandal instead of doing my stupid homework, so I'm saving it for next time....
TYRANNOSAURUSBATAAR wants to know why everyone is trying to out suffer each other.
NINJACATE wants to talk about science and religion.
KCUNNING wants to hear your about your girl scout experience.
BARLEYCHEW let us know those racists on Big Brother totes aren't racist anymore guys. They watched The Help, so...BANG! Racism cured!
WAX-TADPOLE handed in his resignation from geekdom.
UMGEEK shared an article about the "boys are better than books" tank top in which our own BRIMSG is DOUBLE FAMOUSED.
CASSIEBEARRAWR wants to know why you hate the DaVinci Code.
OMARGONE wants to know how much crazy bride bullshit you will put up with after reading that Gawker article about the bride full of crazy bullshit.
GENGHIS KHAN'T found an article on misogyny in video games on Cracked.
And IRONMAM makes the dump because lentils.