I need a costume for this Saturday and then one for Thursday (preferably different). I procrastinated until today, when I went in to a tights store by my apartment. There was a sale so I bought 3 pairs I think I could construct a costume around, but I only have vague ideas. Throwing it to the hivemind for help! I am hoping to be funny/weird so that I have something to talk about when I meet people at a party. A little bit of a 'have to think about it, but then laugh' costume, or a witty reference of some sort. I swear I ordinarily have the capacity to be amusing on my own but down to the wire I'm nervous and can't come up with anything.
Pair 1:
My thoughts for this are to pair with cowboy boots and be a space cowboy. But I don't really know what that is, I just remember it from a Lady Gaga song.
---
Pair 2:
Could be paired with an american flag top I have to be a...? Something funny that I have no ideas for. Uncle Sam?
---
Pair 3: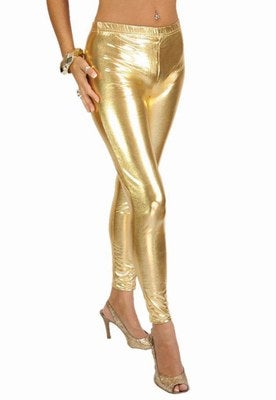 I have gold shoes and a gold lamé bandeau. I love me some gold lamé. But again, my problem is I can' think of any costume to go with all this gold. A gold bar? An emmy (but I don't have wings but I guess I could try to find some)?
---
There were also a few other options that I could return these and trade for, including a floral pair (maybe I could wear a floral top and be a garden? not sure how to make that funny though) and a blue metallic option.