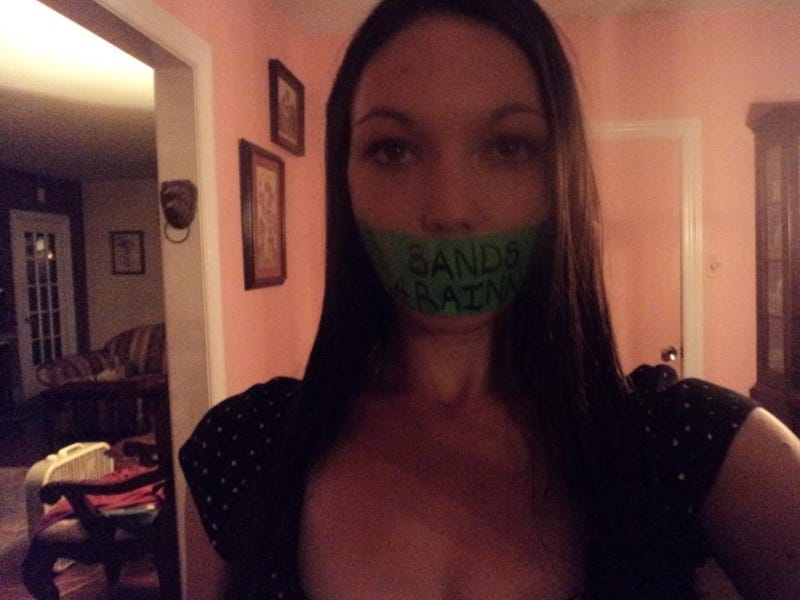 "Shut up, bitch, or I'll shut you up with my dick in your mouth." This is a message I received on Facebook this morning, after I kindly rebuffed a stranger's offer to "meet up". My original message was, exactly: "Aw sorry, I have a boyfriend! But we can certainly be FB friends! Thanks for being a fan!" My second response was simply a sigh while hitting the "Block" button. I then went back to playing my game. Messages like that don't even faze me anymore. This is not the first (or the second, or the third, or the tenth) time someone has threatened me with sexual assault.
I remember a similar message, though this one went into greater detail about exactly what some guy thought of me, including threats of rape and murder. What did I do to deserve such vitriol? I unfriended him. He had been tagging me in random photos of sneakers, that spam-tagging that occasionally happens to everyone. I didn't know if he was doing it on purpose or not. I honestly didn't know the guy at all, but I felt it would be nice to send him a message. Here is what I wrote:
"Hi, I'm sorry, but I have to remove you from my friends for now because it appears you're still having issues with spam on Facebook. It keeps tagging me in photos, which appear on my profile, clog my notifications, and are a hassle to keep untagging/removing/reporting. I'm sure you aren't doing it deliberately, so please let me know if/when the issue is resolved and I will gladly accept you again as a Facebook friend. Hope all's well!"
And this is how he responded (some identifying information has been removed; it has also been edited for brevity. All sic. Also, all sick!):
"That has to be the pettiest shit I ever heard, you're gonna delete me because a photo keep popping up on you're page. Well go ahead … whore bitch… lying, coniving, manipulating ass whore. Fuck you kracker ass bitch, their popping up on everybody's page and it's not because of me. You try to come off like you're so high-maintenance and you're really not shit BITCH! … Bitch don't ever in ya life threaten me with deleting me because of a fucking tag … Bitch i got beautiful 5 Star bad bitches sucking my dick and giving me pussy everyday. Im a real street n**** from the notorious streets of (city name). Im a member of the (gang name), 1 of the most notorious … Gangs on the East coast.. fuck you… I really don't care how you feel about me calling you a whore or a slut because thats what you are, you're still a scared ass lil girl in my eyes. Im from the streets, im from a neighborhood … worstest neighborhood in (city name), what you just said to me i would probally spit a hocker dead in you're face, you assassinated my character for real. But if you tryna get sum big long dick all in you're lil wet pussy and if you want me to cum all over your face and in your mouth. Call me! I shoot disrespectful mufuckas just like you, dey don't call me (nickname) for nothing, im very trigger happy."
I should probably mention that my name is Jennifer Toof. You might know me as "Toastee" from the VH1 shows "Flavor of Love", "Charm School", and "I Love Money". But I'm not here to talk about reality television. I want to talk about rape/sexual assault, and what we can do to fight it.
Although my time spent in the public eye opens me up to increased attention from strangers, both wanted and unwanted, my personal experience is absolutely not a unique, rare phenomenon. All over the world, women and men alike are victims of harassment, sexual assault, and rape every single day.
Every 2 minutes, another American is sexually assaulted. Each year, there are about 237,868 victims of sexual assault. 60% of sexual assaults are not reported to police. 97% of rapists will never spend a day in jail. (Statistics from RAINN.org)Let that all sink in for a moment. Every two minutes. 97% (!!) of rapists will not spend ONE DAY in jail. These statistics are staggering. They are heartbreaking.
So what can be done to help? RAINN- the Rape, Abuse, and Incest National Network- is the nation's largest anti-sexual violence organization. Worth magazine has ranked it one of "America's 100 Best Charities". RAINN's mission is to help victims, educate the public, and improve public policy. RAINN operates a National Sexual Assault Hotline, as well as a National Sexual Assault Online Hotline.
I became a supporter of RAINN as soon as I found out about their organization. After appearing on the shows, when people would regularly ask me for autographed photos, I decided that would be a good way to raise money for the cause. I asked for a minimum $5 donation per photo, and I also auctioned off some show memorabilia, with all proceeds going to RAINN. This is something I continue to do today.
In 2012, a friend introduced me to Bands4RAINN. I fell in love with it immediately, and I vowed to do whatever I could to help. I met with the incredible Hirsch family at a local Applebee's, where a friendship and a joint commitment to the cause were formed. Bands4RAINN was started by an amazing, magnanimous 13-year-old girl named Kelsey Hirsch. Upon learning of the sexual abuse allegations against Penn State's Jerry Sandusky, Kelsey was motivated to make a difference and to help survivors. What started out as the community service component of her Bat Mitzvah preparation became a large, well-publicized national campaign. Essentially, Bands4RAINN sells blue wristbands with the words "Hope, Courage, Strength" printed on them, proceeds going directly to RAINN. But it has expanded to so much more than that. Kelsey has been featured in many different news programs and articles and won numerous awards, including the 2012 RAINN "Hope" Award, the 2013 Prudential Spirit of Community Award, the 2013 President's Volunteer Service Award, and the 2013 National Non-Profits & Advocates Apprecilove Week Honoree Award. She has also been recognized with the great distinction of being added to Michael Pilato's "Inspirations" mural at Penn State's main campus. Kelsey is truly a remarkable young woman, and I can unequivocally say that I consider her my hero.
The next thing that Bands4RAINN is planning is "Sexual Violence Awareness Week" in Atlanta, GA in April 2014. Some of the events taking place there include a "Concert 4 Courage" benefit concert, held at the Hard Rock Café Atlanta on April 13th, and a "Hoops 4 Hope" basketball tournament, held at South Forsyth High School on April 14th. Former GA Tech and NBA player Kenny Anderson will be hosting the tournament, which will also have raffles, prizes, and games. The "Concert 4 Courage" will feature local talented singer Riley Biederer among other accomplished musical acts. I am pleased to announce that I will be hosting the concert. I strongly recommend that anyone in the area come by, support the cause, and have a great time!
We still need help with this event. Donations, of course, are always welcome and highly appreciated. We are also looking for celebrity items for auction, musical acts, and sponsorships. Spreading the word and getting as much publicity as possible are very important. So please feel free to post, Tweet, and share information about Bands4RAINN and Sexual Violence Awareness Week to everyone you know! If you are, or know anyone, in the spotlight, be they actors, musicians, athletes, television personalities, agents, etc., please consider getting involved and lending your face to this wonderful cause! You can contact me directly on Facebook ("Jennifer Toof"), Twitter (@OfficialToastee), or by commenting on this post.
When I post a photo of my dog on Facebook, it will easily get a slew of "likes" in the span of a few minutes. But when I post anything charity-related, it will only get a small handful of "likes". To an extent, I get it. Nobody likes those, "Share this if you don't like cancer!!!!1! If you don't, you must be a heartless kitten puncher!!1!" posts. Also, no matter how big one's heart is, it is impossible for someone to donate beaucoup bucks to every deserving charity out there. "Liking" a Facebook post, or retweeting something on Twitter, isn't going to change the world. But Bands4RAINN wristbands are only $5 each, and spreading the word/raising awareness is free.
It has been almost seven years since "Flavor of Love" aired. I am not a "big star". I wasn't a "big star" even when the show was on TV. I am not just "Toastee"; I am Jennifer. But what can a former reality show personality do now? Maybe I can use whatever recognition I have to draw attention to an extremely important cause.
I only mention my name/"alter-ego" because maybe someone will think, "Oh, I remember her," and read this post. Maybe they will check out the links. Maybe they will buy a wristband. Maybe they will help with our event. Maybe they will share this with others.
Who I am is not important. This cause is.
I know what it is like to be treated like an object. Messages and comments like the ones I mentioned above will persist. I will continue to face sexual harassment on a quotidian basis. As a woman, I must always be hyper-sensitive of my surroundings and the people around me, because threats against my body are constant. But I cannot, and do not, live in fear. Rape/sexual assault is an absolutely devastating ordeal. However, with support, survivors can do just that- survive, and go on living their lives on their own terms. The odds are that every single person most likely knows someone who has been affected by rape, incest, or abuse, or has been a victim themselves. Bands4RAINN is one young girl's mission that everyone can get behind, to let survivors know that their stories can't be silenced and help is always here.
LINKS: