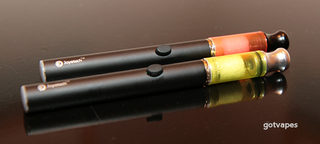 I've had maybe ten cigarettes since Monday. I'm using an ecig (I "vaped" for about a year and a half a few years ago but went back to smoking after I tapered off and quit using the ecig/personal vaporizer, unfortunately) and some liquid I had leftover from those days, and it's working pretty amazingly well.
The cool thing is that I wasn't really planning on switching completely, but that seemes to be what's happening. So far, no smokes today and it's been easy, so, yay nicotine replacement!
If anyone's interested, lmk and I'll write a more detailed post on resources for getting started with good ecigs (not those crap convenience store ones) and liquid and such.