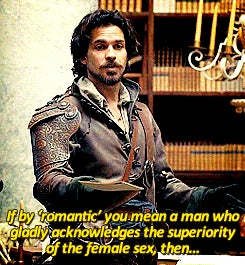 I think I plugged the first series last year, but I never found out if any of you wound up watching.
This time, I must insist: if you love hot dudes, horses, Alexandre Dumas and especially hot dudes, you owe it to yourself to catch up on The Musketeers because the second series just started airing on BBC America and the first series is now available on Netflix.
Is it goofy as hell? Yes. But in the best way possible.
And the show has something for everyone (meaning straight women and gay men):
For the women with a mature appetite (1), for women with a slightly more mature appetite (2), for the women with a less mature appetite (3), For chicks who dig scars (both physical and emotional) (4), for girls looking to have a good time (5), and for those of us who dig the sensitive type (6).
And there's a plot or something.