So, as I mentioned to IronMam, I have been feeling like I've been living in an internet bubble. So, being the proactive and healthy (hahaha) person that I am, I have dinner plans this evening. With a co-worker of Mr. Stockton and her partner. Never met them before, so it's a slightly anxiety-provoking situation. Twenty minutes before we're heading out the door, she texts and says, "Hey, X asked me what's going on tonight. Do you mind if I invite him and his partner?"
I am not a huge fan of a) X's wife or b) changing plans with literally 20 minutes to go. Changing our party from 4 - 6 will impact how quickly we get seated, and X's wife seriously has the conversational skills of a diaherrhetic cat with mutism.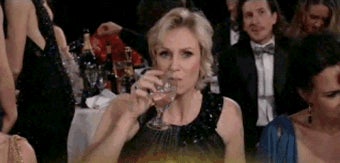 Why can't I just stay here with YOUUUUUUU, GT?