My mother bought this book for a dollar at the Flea Market.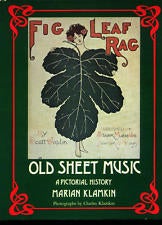 It contains a lot of pictures of old music sheets. On the cover Fig Leaf Rag. Its a fairly forgotten genre called ragtime. It had a little popularity in the 70s due to the movie The Sting which had music from the father of ragtime Scott Joplin. An African American musician who created the genre oh if you play the piano. I would list his music as Master Class Level. I played the piano when I was young forget it. My mother played piano since she was a child had hard time playing him. She considered him the hardest with Beethoven close second.

The above video is Fig Leaf Rag by Joplin. Any pianist play his music?
So the book has page after page of covers of sheet music. The covers were racist when it came to music about African Americans. One cover especially done during WW1.

Yeah. I assume Chocolate is used as a racial term against African Americans along with the term "boy" which conveys they can never be men. On a side not in 1894 there was a creation of the term Chocolate Soldier which means a good looking soldier thats useless. So I wonder if its also a play on words as well as racist. I suspect the other definition is not merged with this

I tried to find the lyrics and a video of the song but it does not appear to exist. Closest I could find is:

https://www.worldcat.org/title/goodbye-my-chocolate-soldier-boy/oclc/61744887
I find the picture revolting there is no way the writers did not know what African American men the same with the audience looks like. Yet the artist went out of theirbl wll. ay to draw a picture based on a racist caricuture. I assume artist drew the soldier to dehumanize African Americans to display the soldier as not quite looking like a human.