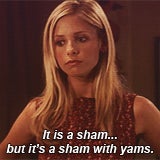 I love to cook, bake, and eat, so obviously Thanksgiving is one of my favorite times of the year. I have been wanting to host Thanksgiving myself for several years, and very nearly offered to do it this year. However, I have had a particularly stressful semester with grad school and ultimately decided that it would only add to my stress to do it this year. Mr. Peachy and I alternate years with our families and this year we are spending the holiday with his parents, grandma, sister, and sister's boyfriend.
To be honest, I already kind of dread spending time with his family. They are all nice enough people, I just have next to nothing in common with any of them. His family isn't particularly close and Mr. Peachy doesn't have a lot in common with them either, but it is his family, so it's obviously easier for him. Whenever we go to his parents' house, it just....boring. His sister and her boyfriend always spend time with his family first, so we get there several hours before they do. We sit and watch TV (whatever Mr. Peachy's dad feels like watching) for 3-4 hours until they arrive. Conversation is intermittent and I am usually dying of boredom 2 hours in. Once his sister arrives, there is a lot more talking, but almost always about things or topics I have nothing to contribute to (for example, his sister and mom work for the same company and talk about work & co-workers a lot). It doesn't help that I'm pretty introverted and quiet myself. I try really hard to join in, but I usually end up spending most of the time in silence. After we eat, there is usually another hour or two of TV watching before we leave.
So I definitely haven't been looking forward to that aspect of Thanksgiving. What I have been looking forward to is cooking. When we have Thanksgiving with my family, I am always in charge of the pie (Pumpkin with Oatmeal Walnut crust and Chocolate Bourbon Pecan...I am drooling just thinking about them). With Mr. Peachy's family, I have contributed something different every year (Brussels sprouts, pie, and my mom's Thanksgiving muffins).
I have had tons of ideas of what to bring this year, but I wanted to make sure I didn't bring something his mom was already making, so I texted her this weekend to see what I could bring. Her response: "You guys can just bring your appetites. I have more than enough planned. Thanks for asking." It sounds silly, but when I read her text, I wanted to cry.
The fact that most of these foods will be on the table is depressing enough. The thought of a Thanksgiving without cooking anything is making me so sad. I thought about just bringing something anyway, but I'm worried that will be taken as "Oh, I didn't think your pumpkin pie/sweet potatoes/vegetable/whatever was going to be good enough for me, so I brought this better version myself."
Mr. Peachy suggested having friends over for our own Thanksgiving. A friend and I have co-hosted a Friendsgiving the Sunday after Thanksgiving for the past two years, but the group of friends involved has kind of drifted apart in the past year and I've been so busy with school I haven't even seen the co-hosting friend in the past few months. He suggested just doing it anyway, but I feel like it is a little late notice for people and I feel like not a lot of people would actually come if I did this (due to the drifting apart). Mr. Peachy then suggested just inviting a different, smaller group of friends, but I would also feel weird about that, because if the old group of saw that I was having it and didn't invite them, that would be weird too. Plus, I already decided it would be too stressful to host anything this year, not to mention at the last minute.
At this point, I'm thinking about just having a nice Thanksgiving-inspired meal on Friday with just Mr. Peachy. No turkey, but some of our favorite sides and pie (although Mr. Peachy isn't big on desserts, so the pie will mostly just be for me).
Do you guys think it would be rude to just bring something to his family's dinner anyway? If not, what is my best bet? I really want to make my pies (I already bought a pie pumpkin at the Farmer's Market, because yeah, I am crazy and don't use canned. I roast my own pumpkin, dammit!), but I'm sure since she said she had everything covered there is already going to be pumpkin pie. Vegetables rarely make an appearance at his family's get togethers, so maybe if I made something green it wouldn't be competing with anything else?
Or should I just bring copious amounts of wine and be content with a mini Thanksgiving with Mr. Peachy on Friday?