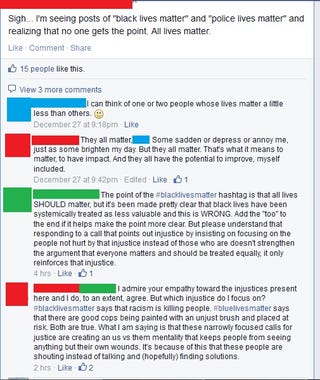 Red is a friend who should know better, green is me, blue is someone I don't know. I don't know if have the energy to reply because I haven't logged in in weeks and I didn't log in with the intent of arguing. I just wanted to see what an extremely witty friend who just recently comleted chemo had posted for New Years Eve. (Pictures of her fabulous new wig, with funny comments.)
Advice for how to calmly explain the bloody obvious in small words would be appreciated. I suppose if you weren't paying any attention at all you might not immediately see how the response tags are derailing, but that plus "blue" and "not all cops" is making me ready scream. I mean, "which injustice to focus on? " How about the one that's an actual real injustice?
[Update] Thanks everybody. I responded to him yesterday (ignoring the irritating comment of someone who is reputed to be a complete idiot anyway who decided to cheerlead for his "logic"). I borrowed a lot of what was suggested. I hope he doesn't just TLDR it and he considers it instead of getting defensive, because I tried really hard to restrain the snide. There were so many more examples I could have used, but I was getting way too long already.
The TLDR answer might be a comic:http://chainsawsuit.com/.../12/08/all-…

One of the longer answers lies in your reply, your descriptions of hashtags, and the root causes of the two situations. Look at the hashtags. One public outcry in response to injustice happened and the hashtag fits the outcry. As you noted, #blacklivesmatter started because racism . . . and particularly institutional racism in the police forces . . . is killing people. There, the cry that lives matter makes sense. In contrast, making a spinoff hashtag about "cop lives" or "blue lives" to talk about how *ahem* #notallcops are racist and they're being "painted with an unjust brush"? Do you not see how 1) this is specifically attempting to derail a protest that was already in place, 2) the hashtag is misleading, 3) these injustices are not comparable, 4) the root cause for both "injustices" is the entrenched and institutionalized problems in police forces that make it harder for the people who joined the police force to "protect and serve" to protect and serve their fellow citizens . . . by protecting the corrupt, the racist, the "bad apples" who spoil the entire barrel. Good cops' reputations aren't being tarnished by the victims of racism, their reputations are being tarnished by the bad cops who aren't called to account for their actions. Which also causes a loss of trust in the police force . . . which also causes an "us vs. them" attitude, because you have a group of armed people who are above the law instead of a group of armed people upholding the law.

Pointing out a problem and calling for it to be fixed is not what creates an "us vs. them" attitude. Thinking it is is shooting the messenger. The "us vs. them" attitude has been there for a very long time. It's been there in decades of institutionalized racism. In the implementation of "stop and frisk" in NYC. In the fact that even with video showing what happened, a cop who choked to death an unarmed man wasn't even brought to trial because the way the system allowed for a closing of ranks. In the increasing militarization and weaponization of police forces across the country over the past decade . . . because anti-tank weaponry is so useful for community policing, protecting and serving the citizens? In the behavior of police unions. People shouting isn't causing an "us vs. them" attitude; people are shouting because when they talked quietly they weren't listened to.

We all want solutions, and there is more than one problem to solve. But saying "all lives matter" does not answer this. It's like saying saying the word "feminism" should be replaced by "humanism" because you don't like sexism. (In other words, it completely misses the point and the reason behind it.) So . . . if you're worried that people who truly want to serve their fellow citizens and uphold the law are being hindered in their ability to do so, figure out what practical actions will draw attention to them and the problem they have. Because it's not going to be the same kind of action as the one drawing attention to the fact that racism is killing people. And it's not going to be the same kind of words. Practically speaking . . . does your position that "all lives matter" mean that the FBI shouldn't investigate Darren Wilson? Does it mean that you don't support reform of how police are held accountable?

What kind of action needs to be taken to support "all lives matter"ing?