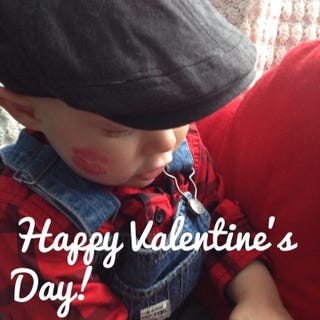 Years ago Big Guy and I had a goofy "contest" every Valentine's Day. We would buy each other the worst possible drug store gifts we could find. There was a $25 limit I believe? We still have Taz as Cupid keychains in our house, and I'm pretty sure he still has silk Garfield boxers in the closet. There was Dale Earnhardt Jr candy and a dancing dinosaur singing Usher (I think it was an Usher song?) and so much hilarious garbage. Brooks, Rite Aid and Walgreens were best, CVS was ok but not as awful.
We soon realized we should just go get something yummy for dinner instead of blowing money on crap, but it was pretty fun!
This year I gave him chocolates, a handmade card and some moustache wax. He's a truck driver, not a hipster haha! We started doing simple little gifts more recently. Still fun!
Lil guy gets kisses this year, no candy for him!
Any other silly traditions that you have/had?