Mornin', all! I'm up waaaaaay before I need to be so boo to that. Yesterday was the end of the hardest part of the semester and the last couple of weeks have been just bonkers.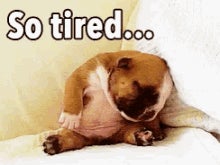 Today will be more grading but a lot less panicky. :) This afternoon, I've gotta run Buster back to the vet for his follow up on his eye. Happily, his eye is looking 100% better so I'm thinking/hoping that the vet was right about him just poking his eye.

I already told Homey that he's in charge of figuring out dinner. I'm so, so ready for some time off, y'all. :P
How about you? How are you doing?