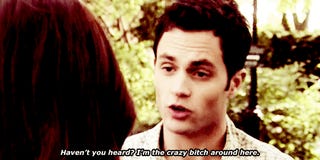 I tried to stand up for myself guys, but I did it too late and I came out looking like a crazy bitch.
My roommate's boyfriend has been living with us for the past few months. She never asked us if this was ok. She never even told us. All of a sudden we just realized he was there all the time, even when she was out.
Originally I thought he was a student who was on break. I knew he lived at home and that was why he spent his nights at her place, but then eventually he just started spending all his time here. There were days I would only realize he was here when I would hear her come home and realize that shuffling I'd heard all day wasn't her— it was another person in the house (he also has no job). In all that time I'd barely spoken to him. She never even formally introduced us. I just met him one night when I was coming back from the bathroom (without pants), and made an effort to say hello.
I relayed these concerns to my roommates and they said "yeah, we've been feeling like that too- let's talk to her about it." So I waited and waited for us to get together talking points, because I didn't want to go talk to her by myself (or only on my own behalf) and come across as the crazy roommate, but it didn't happen (for some reason, whenever I want something done, it almost always gets delayed or forgotten about). Then two of the roommates (the ones who live above us) got all hunky dory with the boyfriend, and they'd all hang out in her room when she wasn't home. Me and the other roomie on the first floor (with the girl and her bf) just grumped.
So I figured: screw it. Screw them. I'll bite my tongue for a few more months then I'm outta here. We'll be friends again once we're no longer roomies.
But I got angrier and angrier, and I started treating them all differently and being pissed off about even tiny things, and feeling differently towards them. And one day when I was venting to another friend I realized that this situation wasn't right. I was talking about her behind her back and it was wrong, especially if somehow she didn't realize her actions weren't ok. I'd hold it against her even after we moved out, and that wouldn't be fair if I didn't even bring it up to her.
So this month, the last month we're all living together and the second-to-last month for utilities, I asked for electricity to be split 6 ways. It's impossible to gauge who spends more individually, and the amount we pay month-to- month seems kind of arbitrary. But he's been kinda living with us since January, and up until now everything's been split 5 ways.
And then the lid blew off. She answered testily, and I answered with "I'm sorry, I know it seems petty coming out at this time, but if I don't say this it's going to eat at me. Your boyfriend, though a cool dude, is basically a sixth tenant, and I'd like him to chip in", and then she wrote back that it was not fair of me to ask because he has financial issues and so she'd have to pay for but she has financial issues, and he is her guest and not a tenant, and it's petty of me to bring it up and it seems like I'm using this money situation to control my uncomfortable-ness with him being in the house.
And now I feel like a crazy bitch. A crazy asshole passive-aggressive bitch over $40. Yeah I should have grown a pair and talked to her when I first felt uncomfortable, with or without the blessing of the house. Yeah, maybe this wasn't the best way to bring it up (I was trying to be...discreet? delicate? But I guess it did come off as passive-aggressive and I can understand why) But at the same time, asking your unemployed boyfriend to basically live with you when you are not the only person in the house, when you yourself are a sub-letter, when you have not asked or even informed anyone else of your intentions or even your guest's presence, and admit that neither of you can afford to pitch in more without putting yourselves in financial jeopardy. Is not cool. And I told her that.
But since I didn't bring it up in the right way, now I'm the bitch. The crazy as roommate. The one people will tell stories about on Jezebel forums and go "oh my god, good thing you got out of there, girl!" And I'm worried we won't be friends anymore. Or that I'll even want to. Fuuuuccck.
Oh yeah, this also took place over email because I clam up in face-to-face conflict, and also because everyone's too busy to sit down and have a house meeting (which is why problems like these arise in the first place, but I digress...).
What do I do? How do I fix it? Do I even want to? I like both her and her bf, but right now I'm really pissed and guilty and pissed for feeling guilty and felling guilty for feeling pissed. Learning to be assertive is hard. :(
P.S. I'm also bipolar and on my period, so I could legitimately be a crazy bitch on this. I could also just be gas-lighting myself, which I tend to do a lot.
P.P.S. I never say bitch. And the word crazy is ableist so I very rarely ever use it either. So for me to call myself that is an indication of how fucked up I feel and why I need some outside perspective.