I was having a chit chat with my lady friends a few days ago about pubic hair and got onto the subject of spending special time cleaning it.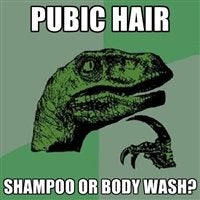 I get in there pretty hardcore with whatever shampoo I have on hand after I've washed everything else; especially when the Red Tide is in.
One of my friends looked at me like I had three heads when I told her this. She doesn't give her pubic forest any particular attention; it just gets a quick swish with her loofah and body wash.
The other friend went scorched earth on her business over the last few months (lasered everything off) so she just laughed at our turmoil. (My friends are awesome).
So how about you, Groupthink? Do you have a special shampoo/conditioning regime for your lady or man garden? Do you figure it gets washed as your body gets washed and don't think about it? Do you exfoliate because you've shaved/waxed/sugared/whatevered it off and you fear The Ingrowns?
***Marked this as inane because I'm bored at work and this is truly inane.