I admit I watch a lot of TV shows but more recently I have gravitated more and more towards shows that amuse me. I like some heavy stuff too, shows that are very well made, compelling, dramatic, give me new perspectives. But at the end of the day after pouring over hundreds of pages of fancy books about fancy academical concepts, I like to give my mind a break and amuse myself with some comedy shows.
This year I've discovered Broad City, The Mindy Project and Jane the Virgin. I am hooked on these, I am seriously going through withdrawal since there haven't been new episodes in forever. I like Orange Is The New Black, but I wasn't that impressed with their last season. I absolutely adore Weeds. I liked Scrubs for the most part though their last season was shamefully bad. I loved Sex and the City (I watched all of it a year ago)! I also watched Drop Dead Diva and really liked it for some inexplicable reason, although the writing wasn't really that good, like at all.
I loved Don't Trust the B in Apartment 23 and I am still upset it was cancelled so out of the blue. I loved Suburgatory and I am sad it was cancelled. I liked Bunheads, also cancelled.

I watched Girls when I remember to and I mention it because apparently it's a "comedy-drama," however it kinda never amuses me. I also watch New Girl when I've got nothing else to do, but it is sort of boring. I remember I watched That 70s Show years ago and I thought it was okay, but it wasn't all that memorable. The Big Bang Theory is, uh, okay, at this point I'm slightly bored with it. How I Met Your Mother was funny at first, then it became endlessly titillating (who's the mother?! why all the partial clues?? ughhhh).
I watched Cougar Town for a while but it got boring. I tried to watch 2 Broke Girls but the jokes are so fucking bad, there are only so many bad Eastern European fake accents and stereotypes I can take and don't people ever get bored of pointing out that Han is short?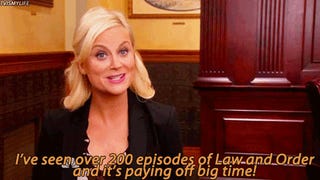 Parks & Recreation and The Office will be my favorites forever and ever and ever and ever and ever. I will forever love Leslie Knope and Pam Beesly. I love you guys and I wish you were real and also my BFFs. I also really wish I could be BFFs with Ilana Glazer & Abbi Jacobson, but alas. I have a lot of silly wishes. Broad City's intro has been my ringtone for the past several months!
SO! What funny shows do you enjoy watching? Which shows do you hate? Do you want to tell everyone how great your favorite show is? Which shows bore you? Do you think your tastes are better than mine? Discuss!

ETA: Just a shout out to all the people who've given me recommendations in the comments. I've just watched the first episode of Brooklyn Nine Nine and it was very fun! Thanks ^_^