And erotic bears. Not that kind. NO THAT KIND. Bears.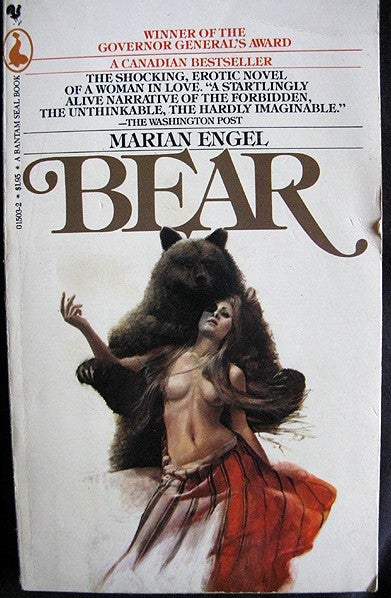 Read here about Bearotica which I heard on the show Q which is from Canada's version of NPR, sort of. This book was recently placed as one of the top 100 greatest Canadian novels and is unexpectedly becoming popular again due to this viral imgur image of its cover.
We had this book. It's funny that I was so jaded because of 1970s, I never fully realized how fucked up this cover was. I also never read it. I mean, I read the weird shit in Flowers in the Attic. And Interview with a Vampire had its sketchy moments. And I'm sure there was other stuff but nothing involving bears. But this show makes a case for it being a quintessentially Canadian novel. Because Canadians like their bears.
Why is the internet ablaze over Canadian writer Marian Engel's 1976 novel, Bear? The girl-meets-bear story captured the attention of a new generation after an imgur post about the novel went viral — and not just because of its retro-racey cover art.

Fellow novelist and CanLit expert Aritha van Herk speaks with guest host Terry O'Reilly about the renewed interest in the Governor General Award-winning book, how Engel's gripping tale goes beyond bestiality, and why — despite its wild premise — Bear could be the quintessential Canadian novel.

Van Herk insists the book is about more than racy scenes with a bear. It's a compelling read, and a national gem.

"She develops an intimate relationship with the bear, in the course of which she discovers who she really is and what is happening inside her own head," she says,

"In that sense, it's a quintessential Canadian book - where do we go to find out who we really are and what matters to us? We go off into the wilderness."

It isn't just about "getting your rocks off."
You guys take your bears really seriously. Really seriously. What the actual fuck, Canada?