There is a MASSIVE chip in one of my front canines that I swear to god was not there yesterday. I just ran my tongue along my teeth and felt this huge hole right in the front of my tooth. How can something like this happen without me noticing??
LOOK AT THIS, GUYS: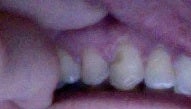 ---
HOW THE FUCK DOES THAT HAPPEN?
AM I DYING? ARE ALL MY TEETH GOING TO FALL OUT? HALP.
---
ETA: Lady Rainicorn totally gave me the answer! I had a composite filling done there years ago; it must have fallen out.