I'm working today at a place where they have someone go out and get lunches for everyone. I am very appreciative because getting other people's lunches is one of the most annoying parts of my job. But today I got one of my favorite lunches without having to leave the office. Bless you, office PA for doing what I normally do and hate. You are the best person ever.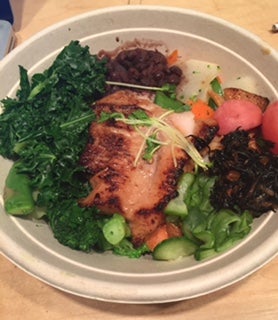 This most favorite lunch of mine is called a macro meal at the particular restaurant. It's got black cod, with steamed seasonal vegetables, kale & adzuki beans, hijiki seaweed, house-made pickles, a big blob of brown rice and carrot-ginger dressing.
So what's everyone else having or has had already because it's like past 3 where a lot of you are right now?