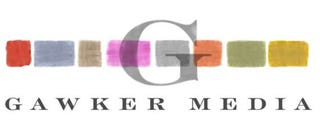 Because I work best in list form, I've decided to try and compile a list of who has left GM since these big public turnovers have been escalating. Who am I missing? I'll add them in the list as you refresh my memory. (ETA: I've edited the title to make it more searchable since this may inevitably come up again in the future. Edited again to clarify.)
This list includes both business and editorial employees who have left through 2014-2015 (edit: I have added some where it is unclear whether the end date is 2013 or 2014, they have been tagged as such). This list also includes both voluntary and involuntary resignations since we don't know details for all of them, and they may be more complicated than simply being fired and/or quitting. I will be updating this list as information comes in through the end of this year.
Adam Dachis
Adam Weinstein
Aleksander Chan
Alexis Nichols
Andrew Gorenstein

Annalee Newitz

Anne Rutledge
Ariel Viera
Beejoli Shah (2013/2014)

Bennett Madison
Brandi Morgan Kirchgessner*
Brandon Kronstat
Brian Barrett

CA Pinkham

Caity Weaver

Callie Beusman
Camille Dodero (2013/2014)

Chelsey Hoffman
Chris Brinlee Jr
Chris Clarke
Chris Thompson
Collier Myerson
Collin Krum
Corey Hass
Damon Lavrinc
Dan Lyons
Dayna Evans

Dennis Mersereau

Diane Kelly
Diane Schwartz
Dodai Stewart

Doug Barry
Eric Limer
Erin Gloria Ryan

Erin Pettigrew
Fabiola Lara
Geoff Manaugh

Hudson Hongo
Isha Aran
Jacob Clifton
James Del
Jane Marie

Jennifer Culp
Jason Goldman
Jason Parham

Jay Hathaway

Jeff Hilder
Jessica Coen
Joel Johnson
John Koblin (2013/2014)

Jolie Kerr
Karen Polewaczyk
Kelly Conaboy
Ken Layne

Kevin Montgomery
Kira Fisher
Kyle Wagner

Laura Beck
Lauren Davis
Leah Beckmann

Leah Copertino
Leah Finnegan

Leslie Horn
Lindy West
Lindsay Chipman
Lindsay Jaffe
Mihir Patkar
Mark Shrayber

Mark Strauss
Maud Deitch
Max Read
Meg Neal
Megan Gilbert
Meredith Woerner
Michael Hession

Michelle D'Alba
Michelle Dean
Miklos Vincze
Nitasha Tiku
Natasha Vargas-Cooper

Neetzan Zimmerman
Nicole Conlan
Patti Chapman
Paul Thompson
Peri Hochwald
Phoenix Tso

Rachel Rosenfelt

Rebecca Rose

Robbie Gonzalez
Robert Sorokanich
Samantha DeLosada
Samantha Winkelman
Sara Benincasa
Scott Kidder

Sophia Lapidus
Stephanie Georgopulos
Sultana Khan

Taylor Berman
Tim Grierson
Tina Amini
Terron Moore
Timothy Dahl
Tom Plunkett

Tommy Craggs

Tori Reid
Tracie Eagan Morrissey
Tracy Moore
Travis Okulski
Vanessa Marin
Wes Siler
Whitson Gordon
Will Leitch
William Arkin

Yannick LeJacq
Zoe Gordon
I'm updating this to add which subblogs are now officially defunct:
The Vane

Valleywag

Defamer

Morning After

Fortress America

Millihelen

Kitchenette

Workshop

AfterHours

Flight Club

Indefinitely Wild

Animals

Toybox

Throb

Cink.Hu

Grierson & Leitch movie reviews
For everyone on the list, this is for you.
*Update in the comments