JINX IS!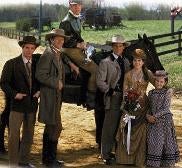 Just got my copy of season one (SOB! The only season!) of Legacy.
Do you remember this? It was the shit!!! I'm pretty sure it was UPN's first season. The family has a horse farm, takes in an orphan, and DRRAAAAMMMAAA!
It also had a great interracial romance subplot which 8th grade Jinx was thrilled to see on tv.
Oh! UPN! The 90s! WoC on TV (FUCK YEAH, SHARON LEAL!). And life was good!
Better now that I can drink bad wine while watching. =)
What guilty pleasure are you scouring Amazon for?