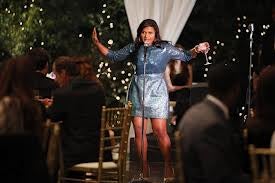 I love Mindy Kaling. I think she's hilarious. I'm glad she has her own show. I've watched the first season, and I'm glad she's getting a second. I will not be watching on the regular, but good for her. I tried liking the show, but found myself obligatory-watching. I dreaded that it was part of my weekly schedule. Often I'd put it off. I didn't know why. I really do love Mindy Kaling. Then after the finale, I had an epiphany: I do not like Mindy Lahiri.
I don't understand That Woman. She is successful in her job; she dates frequently; she says funny things; but I am irked by her. I don't like her choices in men, I don't care how "funny" the Duplass boys are. She has shown to be a girl who floats, who's indecisive and cutesy, who is everything I despise about women in rom-coms. I had hoped she'd be the one leading the charge/plot, but it seems that she depends on the men in her life to lead, and then she reacts.
Also, the kinds of jokes the show tells aren't smart. (Though the boyfriend who put on her pants thing was brilliant.) They depend too much on the "cutesy city girl out of place in her man's world" schtick, as opposed to "she doesn't know anything about this, but watch things go wrong when she engages," or something. That can be just as pedestrian, but at least it shows character growth. And don't get me started on changing herself for a man.
I know the whole point of the show was for Kaling to write a series of rom-coms, but I was really hoping she wouldn't write a character as empty as Mindy Lahiri has proven to be. Bully for her in her second season! I'm glad she's working. I'm off to re-watch Battlestar Galactica to remind myself what some fully-formed female characters look like.