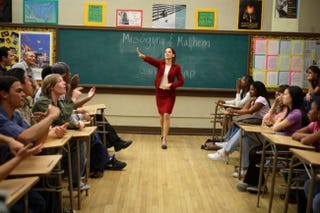 I found this article interesting, especially as someone who, over the course of 7 years, has debated leaving twice.
Not on a Friday-why-are-my-friends-going-out-and-I-want-to-sleep-level, but in the what-the-fuck-am-I-doing-with-my-life-way.
I was a bright kid and went to one of the top schools in the country. Never studied, avoided STEM classes like the plague, but still managed to have a 3.78 GPA. And when as a senior, we were discussing college plans and I named a school mostly known for teaching, this earned me a discussion with a few of my teachers:
WHAT THE FUCK ARE YOU DOING, JINX?! HAVE YOU NOT HEARD ABOUT LAW SCHOOL?
But I love teaching. My parents were teachers, my uncles, my cousins. All of us there, ready to help students, support them in anyway possible (I was more than used to my folks spending their free time with/for students than with me), and make sure they got what they needed.
And yet, I've considered leaving. When you're treated like an idiot by administrators, parents, and society, it gets rough.
The 7-4 days and then 2 hours a night grading (ELA FTW!), then at least 4 hours on the weekend planning, grading, and helping friends with their grading were draining.
The stupid tasks that have nothing to do with teaching make you want to shove a desk Michael Beach in Lean on Me style.
The tests—which I don't 100% disagree with—become all you're worth to the admin and the minute your kids slip, you're in trouble.
Seeing the discrepancies between what your friends have available in their schools and yours (seriously, ya'll, I'd fucking kill for the Rizzo to be working, have to provide my own paper, and get snippy emails from the secretaries when I make more than 20 copies on the copier while my bestie has a machine that makes 100 copies in 1 minute) makes you want to barf.
Having Teach for America boosters tell you you're uneducated, you underperform and some random smart kid can do better makes you just want to bang your fucking head against a desk.
But we stay. I know why I stay—I believe in public education. I believe that I can make a difference in a kid's life—not every kid, but enough to make it worth it. I believe that learning to read and write and think critically are necessary to be an active participant in our world. I believe that teaching middle schoolers not to be bums to each other makes life better for everyone in 10 years.
So, GTers, why do you stay?
Also, don't read the comments at the Atlantic. No one needs that rage stroke.
Also-er, God I fucking HATED Freedom Writers. The best teacher movies ever were Lean on Me and Stand and Deliver.