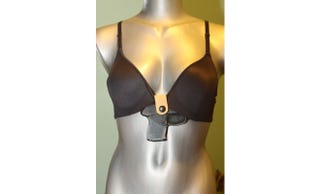 Christina Bond, a 55 year old woman from St Joseph, Michigan fatally shot herself in the eye on New Year's Day. Law enforcement officials have concluded that she was trying to adjust the position of her bra holster when the gun went off.
I was having trouble visualizing how this happened until I googled and found the above image.
According to her obituary, Bond had extensive fire arms training, having joined the U.S. navy out of high school, and serving two terms in the Military Police.