While sitting at work one fine day, I got a ping from one of my good friends on gchat. It said: "I have found the most comfortable jeans ever. You have to try them." (or something very similar). Now, given that my friend is 5'7, thin, and has lovely long legs like a gazelle and I am proportionate for 5'4, round of hip and have quite muscular legs, one can imagine my skepticism that any jean that looked good on her would look good on me. For instance, I know she also loves and looks fabulous in the straight leg jean from JCrew, and on me, hahahahahahahaha.
But my friends, listen well. Her perfect jean IS the perfect jean. Let me introduce you to the Gap Ponte Legging Jeans.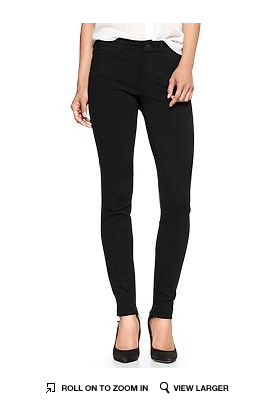 They are basically like leggings with pockets, and made out of a thicker, more denim like material. They are INSANELY comfortable, and can be dressed up or down. I tend to suffer from muffin top in jeans, and there is no muffin top with these suckers, and the material is sufficiently stretch to accommodate a wide variety of legs. My ass looks fabulous. When I put them on for the first time, I immediately sent her a worship-filled text, and she responded "Yeah, good luck trying to convince yourself to wear any other jeans ever again."
She suggested ordering a size down from my normal jeans size, which I did, and it worked like a charm. The regulars are also a bit long on me, but at 5'4, that's pretty much the case with any pants. Too short for regulars, to tall for shorts.
I just looked on the website and they're currently sold out of most sizes, but that was the case when I first looked, too. They restocked fairly quickly, so don't despair. But do yourself a favor and buy these bad boys. You will never want another pair of jeans.
D'oh! Updated to include link: http://www.gap.com/browse/product…