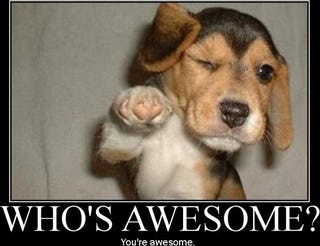 I seriously I want to say THANK YOU!
I just got home from a night out with people. They got drunk. I didn't. The guys decided to be a hit squad but they are too drunk to do anything even to open a door. I didn't give them all the details cause they are not close friends but just enough to let them know I was feeling hurt. Did it help to be around them? A little but I think you guys helped a lot more.
Without yous guys from earlier I would not know what to do. I am still receiving calls from his cell and a number that I am guessing is hers. I am not answering either and I don't plan to talk to either one of them. I just want this behind me. I still feel pretty terrible but in time I guess it will pass. My brother is making sure I am not eating food to cope. I asked him why does he care if I am eating too much. He said "I might get hungry later loser." He is such a lovable asshole.
I just want to say THANK YOU again! I love y'all I really do.