What do you like to eat for breakfast? What do you like to make for breakfast? Are you known for a breakfast specialty? Tell us about it here (recipes don't hurt, just sayin'!).
Me? I'm known for my quiche! My favorite one to make and eat is one with caramelized onion, sauteed (in butter) mushroom, and gouda. When I have spinach and/or green onion laying around, those get chopped up and thrown in, too.
Yum, yum, yum. All the savory, eggy, cheesy goodness FOR ME! When friends come over for brunch, this is what they want.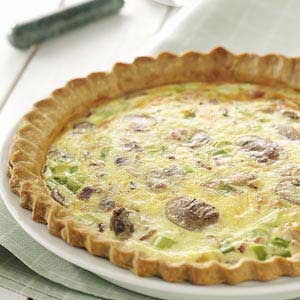 Ok, now it's your turn! Tell us about breakfast in your house!